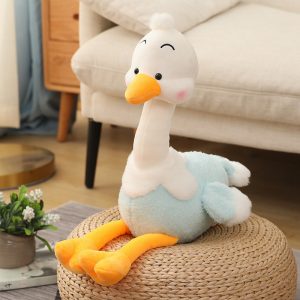 | | |
| --- | --- |
| Product Style | Stuffed bird toys |
| Material | Plush and PP cotton or customize material |
| Product Size | 35 cm, 55 cm |
| Product weight | 0.12kg, 0.32kg |
| MOQ | 100PCS |
| Payment terms | Paypal, western union, and bank |
| Feature | Soft and safety |
| Packing | 1pcs per bag, then put in carton boxes |
| Custom sample | Custom sample will have a little sample charge and need 7~10days |
| Shipping sample | After make sample need 4~7days for air shipping |
| Order delivery | 15~25days for each order depend on quantity |
| Usage | Promotional or gift for toys… |
| Certificate Support | Custom toys can support make ASTM/CPSIA/CE/EN71… these standard certificate |
| Feature | Made of comfortable plush fabric, skin-friendly and not piercing, light touch, very texture. designed with good details, comfortable materials, unique designs and consistent colors. The toy is full of filling, which makes the toy more vivid. |
The reasons for the migration of birds are very complicated. It is generally believed that this is an instinct of birds. This instinct has not only genetic and physiological factors, but also the result of long-term adaptation to external living conditions, which is related to climate, food and other living conditions. The changes are closely related. Migratory birds are very sensitive to climate changes. As soon as the climate changes, they will start migrating one after another. In this way, the severe cold in winter in the north and the scorching heat in summer in the south can be avoided. Climate change also directly affects the food conditions of birds. For example, after the fall, most plants in northern my country shed their leaves and withered, and the activities of insects decreased. They burrowed into the ground to sting or lay eggs and died, and their numbers dropped sharply. The lack of food makes small insect-eating birds unable to maintain their lives. Only by migrating to the food-rich south can they survive the winter well. Birds that hunt insects and small insectivorous birds will follow suit. Move south.
For children, plush toys are their partners for communication and contact. Plush toys allow children to perform various scenes, explore emotions that they have not yet fully mastered, practice newly mastered skills, and build up their sense of independence.
The world may be a terrible place, but no matter how far the children go, or they encounter a strange new world, a precious stuffed toy represents safety and familiarity, and they can take it with them. When encountering new situations, furry friends may help children cope and make them feel less vulnerable.
Children do not have much control over their own world, which is why plush toys can provide a way out for their independent life. As parents of children's toys, let children be responsible for change and strengthen their confidence.