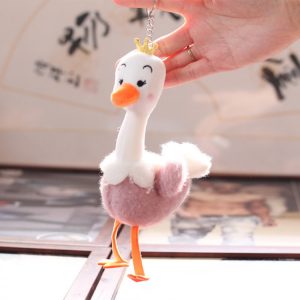 Product Features
| | |
| --- | --- |
| Product Style | Stuffed keychain toys |
| Material | Plush and PP cotton or customize material |
| Product Size | 20cm |
| Product weight |  0.05kg |
| MOQ | 100PCS |
| Payment terms | Paypal, western union, and bank |
| Feature | Soft and safety |
| Packing | 1pcs per bag, then put in carton boxes |
| Custom sample | Custom sample will have a little sample charge and need 7~10days |
| Shipping sample | After make sample need 4~7days for air shipping |
| Order delivery | 15~25days for each order depend on quantity |
| Usage | Promotional or gift for toys… |
| Certificate Support | Custom toys can support make ASTM/CPSIA/CE/EN71… these standard certificate |
| Feature | It is filled with elastic super-soft fabric and down cotton. It combines softness and elasticity. It can be pressed and embossed without deformation, giving you a different comfort experience. |
Keychain, also known as keychain, key ring, key chain, key hanger, etc. The materials for making keychains are generally metal, leather, plastic, rubber, wood, etc. This object is exquisite, compact, and ever-changing in shape. It is a daily necessities that people carry with them. A keychain is a decorative item hanging on a key ring.
There are many shapes of keychains, such as cartoon shapes, brand shapes, simulation models, etc. The materials are generally copper, aluminum, rubber, plastic, etc., and the zinc alloy surface is mainly nickel-plated or rhodium-plated with anti-rust elements. The keychain has become a small gift.
Plush things such as plush toys can promote the development of touch in young children. When a child touches a plush toy with his hand, the tiny fluff touches every inch of cells and nerves on the hand. The softness brings happiness to the child and also helps the child's tactile sensitivity.
Because the human body's neurotactile corpuscles (tactile receptors) are densely distributed in the fingers (the tactile corpuscles of children's fingers are the densest, and the density will decrease as they age), the other end of the receptors is connected to the brain, and it is frequently "powered on." , Helps to improve the brain's cognition and strain on the outside world. This effect is actually the same as that of a baby picking up small beans, but the plush will be more delicate.
Plush toys have the characteristics of lifelike and cute shape, soft touch, not afraid of squeezing, easy to clean, strong decoration, high safety, and a wide range of applicable people. Therefore, plush toys are good choices for children's toys, decoration of houses, and gifts.