Introduction of custom plush toy clothing
Service Scope: We undertake the wholesale of plush toy clothing, customize the size, color, packaging, etc., and can also customize any logo. Our products are very popular and popular, and the prices are cheap. We hope you are interested in our products.
Refers to garments that are tailor-made and made in one piece according to the specific situation of plush toys. Most clothing and garment shops are operating in this way. The business method of customized clothing abroad is also called personalized clothing design, which is usually tailored to the size and color of the plush toy itself. According to personal preferences, we also choose fabric colors and determine clothing styles. Many customers want to make their plush toys look better. They don't have the right size and favorite style, so they choose custom plush toy clothing.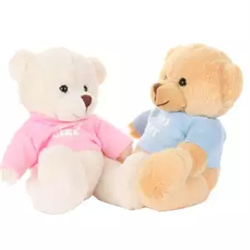 The development history of custom clothing
From the beginning of the history of tailoring, clothing has been tailored to the individual and then tailored according to the size. Different people have different methods. Therefore, generally speaking, each piece is personalized. However, since the word "ready-to-wear" appeared in the middle of the last century, tailor shops have gradually faded out of the clothing production stage. Although they have not disappeared, their proportion of clothing has been greatly reduced. Tailor-made clothing began to appear in the city again, and regained an important position. Unlike before, he mainly serves urban white-collar workers, urban upstarts, and people who pay attention to taste and personality. These people have money, ability, and status. Custom-made clothing has been used as a way to enhance one's own image, and it has also become a kind of icon to distinguish others.
Customized pet clothing and plush toy clothing also need to be tailored, clothing style selection and color selection, according to your own favorites to customize personalized and novel clothing for your pet or plush toy