Introduction of the box
Service Scope: We undertake the wholesale of various toy packaging boxes, customize the size, color, material, etc., and can also customize any logo. Our products are very popular and the prices are cheap. We hope you are interested in our products.
Packaging boxes, as the name suggests, are boxes used to package products. They can be classified according to materials such as paper boxes, iron boxes, wooden boxes, cloth boxes, leather boxes, acrylic boxes, corrugated packaging boxes, PVC boxes, etc., or according to the name of the product. To classify such as moon cake box, tea box, wolfberry box, candy box, exquisite gift box, toy box, souvenir box, wine box, chocolate box, food, medicine and health care product box, food packaging box, tea packaging box, stationery box, etc. Packing box function: to ensure the safety of the product during transportation, improve the grade of the product, etc.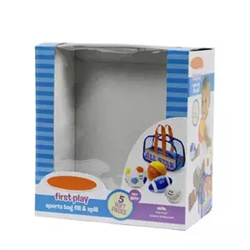 What are the types of carton packaging
1. According to the material, it is divided into paper packaging, plastic packaging, metal packaging, glass packaging, wooden packaging, and other materials made of linen, cloth, bamboo, rattan, and grass;
2. According to the function, it is divided into industrial packaging that performs transportation, storage, and circulation functions and commercial packaging that plays a role of promotion or advertising for consumption;
3. According to the packaging form, it is divided into individual packaging, inner packaging, and outer packaging;
4. According to the packaging method, it is divided into waterproof and moisture-proof packaging, high-shadow packaging, rust-proof packaging, and anti-static packaging. Water-soluble packaging, anti-ultraviolet packaging, vacuum packaging, insect-proof packaging, cushioning packaging, poly packaging, antibacterial packaging, anti-counterfeiting packaging, nitrogen-filled packaging, deoxygenated packaging, etc.;
5. According to the packaging contents, it is classified into food packaging, mechanical packaging, pharmaceutical packaging, gift packaging, toy packaging, chemical packaging, electronic product packaging, military supplies packaging, etc.;
6. According to the degree of softness and hardness of the packaging, it is divided into hard packaging, semi-rigid packaging, flexible packaging, and so on.