Introduction of backpack

Service Scope: Our company undertakes the wholesale of Plush backpacks, customizes the size, color, packaging, etc., and can also customize any logo. Our products are very popular and popular, and the prices are cheap. We hope you are interested in our products.

Backpack (BackPack) refers to the bag on the back. The materials are diversified. Bags made of leather, plastic, polyester, canvas, nylon, plush, cotton, and linen lead the fashion trend. In a period of increasing individuality, various styles such as simplicity, retro, cartoon, etc. also cater to the needs of fashionable people to express their individuality from different aspects. The styles of luggage have also expanded from traditional business bags, school bags, and travel bags to pencil bags, coin purses, and small sachets.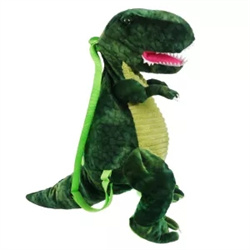 How to clean Plush backpack

If it is too dirty, use a neutral detergent to clean the backpack and place it in a cool place to air dry, but avoid too long exposure, and the backpack must be immediately patched if it is scratched. A thicker needle thread is used to sew up the chair cushion. The needle must be sewn firmly. The nylon thread can be broken by fire. The specific method is as follows:
1. Use a small brush to clean the floating soil, which is suitable for backpacks with only floating dust.
2. Wipe with a soft towel soaked in water, and then dry, suitable for backpacks with ordinary stains (such as mud).
3. Soak in a large basin for a few days, and then rinse repeatedly. It is suitable for dirty backpacks.
4. Remove the carrying system and use the washing machine, which is suitable for lazy people with cleanliness.