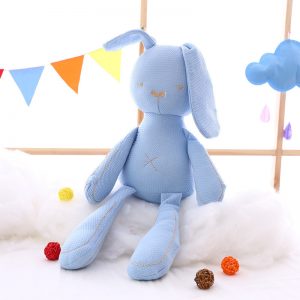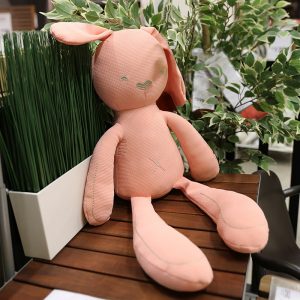 Product Features
| | |
| --- | --- |
| Product Style | Stuffed rabbit toys |
| Material | Plush and PP cotton or customize material |
| Product Size | 50cm, 70cm, 90cm, |
| Product weight | 0.4kg |
| MOQ | 100PCS |
| Payment terms | Paypal, western union, and bank |
| Feature | Soft and safety |
| Packing | 1pcs per bag, then put in carton boxes |
| Custom sample | Custom sample will have a little sample charge and need 7~10days |
| Shipping sample | After make sample need 4~7days for air shipping |
| Order delivery | 15~25days for each order depend on quantity |
| Usage | Promotional or gift for toys… |
| Certificate Support | Custom toys can support make ASTM/CPSIA/CE/EN71… these standard certificate |
| Feature | Made of comfortable plush fabric, skin-friendly and not piercing, light touch, very texture. designed with good details, comfortable materials, unique designs and consistent colors. The toy is full of filling, which makes the toy more vivid. |
The rabbit has many abilities. The rabbit's eyes are round and the single-eye angle of view is 180 degrees, so its eyes can concentrate a lot of light, have very good eyesight, and have a wide field of vision. Rabbits have long tubular ears with long and pointed ears, so they are particularly sensitive to hearing. And the rabbit runs very fast and is very good at running. Rabbits also love to clean and clean their hair every day. Shy, sensitive, good at digging and jumping, gentle temperament, long ears, sensitive hearing, strong limbs, muscular, large eyes, large visual range, strong metabolism, developed cecum, no canine teeth, flexible trunk and body , The appearance is cute and cute, cute and so on. The characteristic of bunnies is their interesting place.
Plush things such as plush toys can actually bring happiness and security to children. Comfortable contact is an important part of children's attachment. We often see some children who have to put their arms around a plush toy before going to bed at night, or must be covered with a plush blanket to sleep. If the plush toy is thrown away, or covered with other cloth quilts, they will be irritable and unable to sleep. We sometimes find that some big treasures always like to walk around with their plush toys after their younger brothers or sisters are born, even if they eat meals, they don't want to put them down. That's because plush toys can, to a certain extent, make up for the child's lack of security.
In addition, often contact with plush toys, the kind of soft and warm feeling, psychologists believe that contact comfort can promote the development of children's emotional health.