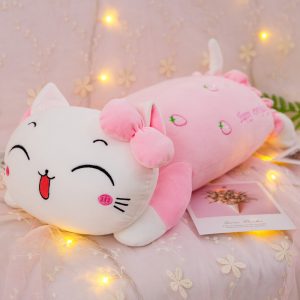 Product Features
| | |
| --- | --- |
| Product Style | Stuffed cat toys |
| Material | Plush and PP cotton or customize material |
| Product Size | 45cm,60cm, 100cm,115cm |
| Product weight | 0.32kg,0.65kg,1.8kg,2.6kg |
| MOQ | 100PCS |
| Payment terms | Paypal, western union, and bank |
| Feature | Soft and safety |
| Packing | 1pcs per bag, then put in carton boxes |
| Custom sample | Custom sample will have a little sample charge and need 7~10days |
| Shipping sample | After make sample need 4~7days for air shipping |
| Order delivery | 15~25days for each order depend on quantity |
| Usage | Promotional or gift for toys… |
| Certificate Support | Custom toys can support make ASTM/CPSIA/CE/EN71… these standard certificate |
| Feature | Made of comfortable plush fabric, skin-friendly and not piercing, light touch, very texture. designed with good details, comfortable materials, unique designs and consistent colors. The toy is full of filling, which makes the toy more vivid. |
Cats are agile and good at jumping. Eat fish, mice, etc. The reason why cats love to eat fish and mice is because cats are nocturnal animals. In order to see things clearly at night, they need a lot of taurine, and mice and fish contain taurine. So cats are not just because they like it. I eat fish and mice because of my own needs. As the natural enemy of rats, cats can effectively reduce the damage of rats to crops such as young crops. The "miao" in the shape of cats can be seen in ancient Chinese agricultural life.
The cat can walk casually on the high wall, jumping lightly, and can't help but be impressed by its sense of balance. This is mainly due to cats' outstanding response nerves and sense of balance. It only needs to slightly change the position and height of the tail to achieve the balance of the body, and then use the strong muscles and strong joints of the back foot to jump quickly. Even if it falls high in the air, it can change its body posture in the air, lightly and accurately. Landing. Good at climbing, but not good at falling from the top. Even when falling from a high place or jumping, the cat relies on its tail to adjust its balance and make the padded limbs fall on the ground. Be careful not to break the cat's tail, it will affect its balance ability, and it will also easily cause the cat to have diarrhea and shorten the cat's lifespan.
he use of plush toy games can cultivate good characters of infants and young children, and is an effective means of ideological and moral education for young children. In the game, children imitate adults' attitudes towards labor and everything, experience people's thoughts and feelings, and can gradually understand the social moral codes and customs.
The use of plush toy games can carry out aesthetic education to young children. A variety of games create conditions for children to acquire beauty. In games, children can not only feel beauty, but also improve their aesthetic ability and learn to use various methods to create beauty.