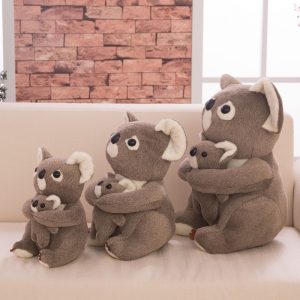 Product Features
| | |
| --- | --- |
| Product Style | Stuffed koala toys |
| Material | Plush and PP cotton or customize material |
| Product Size | 30cm, 40cm,50cm |
| Product weight |  0.5kg |
| MOQ | 100PCS |
| Payment terms | Paypal, western union, and bank |
| Feature | Soft and safety |
| Packing | 1pcs per bag, then put in carton boxes |
| Custom sample | Custom sample will have a little sample charge and need 7~10days |
| Shipping sample | After make sample need 4~7days for air shipping |
| Order delivery | 15~25days for each order depend on quantity |
| Usage | Promotional or gift for toys… |
| Certificate Support | Custom toys can support make ASTM/CPSIA/CE/EN71… these standard certificate |
| Feature | Cute shape, rich expression, cute, and likable. Demanding materials, perfect craftsmanship, vivid expressions, every accessory strives for perfection. Made of high-quality natural PP cotton, it is full-filled, with better elasticity and better hand feel. |
Koalas live alone. They live on eucalyptus trees for most of their lives, but occasionally they may go down to the ground by changing their habitat or swallowing gravel that helps digestion. Their livers are very strange and can separate the toxic substances in eucalyptus leaves. Leaves are their only food. Just because koala's main food-eucalyptus leaves contain poisonous substances, koalas sleep a long time to digest poisonous substances. Koalas communicate through buzzing and purring, and also signal through the scents they emit. During the day, the koala usually curls up and perches on the upper eucalyptus trees, and only goes out at night, climbing up and down the branches, looking for eucalyptus leaves to satisfy their hunger. Although it has a big appetite, it is very picky. Among 700 kinds of eucalyptus, only 12 of them are eaten. It especially likes to eat the leaves of rose eucalyptus, manna eucalyptus and spot eucalyptus. An adult koala can eat about 1 kilogram of eucalyptus leaves every day. Eucalyptus leaves are juicy and rich, containing cineole and water anise terpenes. Therefore, the koala always exudes a rich and fragrant eucalyptus scent.
Children often act as soft toys and dolls. When children are experiencing emotions that they do not fully understand, playing with toys is a safe and positive way to learn how to deal with their emotions. Relationships with siblings, parents, and new friends can also benefit from role-playing with toys. Through the interaction of ideas, children learn to understand what they see and what they see.
When children learn to speak for the first time, they will be excited to use their new skills. Talking to their stuffed animals can help them build their muscles. Practice makes perfect!